Are you looking for a mentor? You are at the right place!
The Education Graduate Students Association launched its mentorship program in September 2020. The aim of the program is to provide graduate students in the Faculty of Education with a peer to peer support network, where academic interests and experiences can be shared. You can peruse the biographies of mentors below to find one that matches your needs and interests.
Found a mentor you are interested in? You can request a link by filling out the following form: https://forms.gle/9trTKW7a5TUa2XX7A 
If you would like to sign up to be a mentor or have any questions about the program, please send an email to one of the administrators to get you started. Thank you!
Administrators:
Natalie Sadowski – nsado072@uottawa.ca 
Golshan Mahjoub – gmahj097@uottawa.ca
Meet our 2023-2024 mentors!
Mentors in a Masters Program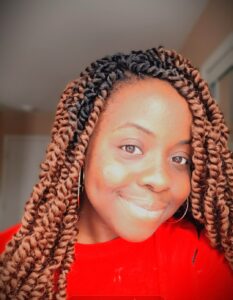 Brutelle Audrey C. Kom is a graduate degree student at the University of Ottawa. She is currently pursuing her graduate studies in the Master of Education program in the Counselling Psychology stream. Audrey completed the majority of her studies in Quebec before coming to Ontario. Teaching and reading are a real source of inspiration and passion for her. She would be happy to help guide, whether it be by providing you with tips on how to succeed in your studies or by being a source of advice and motivation for you. 
Brutelle can mentor peers in French.
Budyanee grew up in Sri Lanka and moved to Canada at the age of 15. She completed an undergraduate degree of Psychology, with dual minors of Spanish and American Sign Language at Carleton University. She is currently enrolled in the MEd program (counseling psychology) at the University of Ottawa. She knows the best food spots in Ottawa, and is always looking for good hiking recommendations. Feel free to chat with her about life, school, or future goals!
Budyanee can mentor peers in English.
Jenaya was born in Sylvan Lake, Alberta, completing her Bachelor of Science in Psychology at the University of Alberta in Edmonton, Alberta. She later moved to Ottawa to begin her Master of Education in Counselling Psychology, and is enrolled in her final year. She is completing her clinical internship at a private therapy practice, and works on the Student Support Team at uOttawa. In her free time, Jenaya enjoys hiking in the mountains, dancing, playing music, exploring restaurants and cafes, and spending time with friends and family. She is happy to help in whatever way she can!
Jenaya can mentor peers in English.
Mentors in a Doctorate Program
Recently Graduated Mentors
Jacquelyn Wingrove (she/her) was born in Sutton, Ontario and speaks English fluently. She has recently completed the M.Ed program in the Health Professions Education stream. Jacquelyn is working full-time at the Canadian Memorial Chiropractic College as the Coordinator of Clinical Experiences. Her academic areas of interests are in equity, diversity and inclusion in higher education, competency-based education, and mentorship. She enjoys sharing her experience of balancing full-time work and part-time studies with new graduate students.  
Jacquelyn can mentor peers in English. At this time, she is not accepting new mentees.