Are you looking for a mentor? You are at the right place! The Education Graduate Students Association launched its mentorship program in September 2020. You can peruse the biographies of mentors below to find the one with whom you have the most affinities. Then, you simply need to send this person an email to introduce yourself and set up your first meet. It is expected that your mentor will meet with you twice a month to answer questions and share his/her/their experiences. If you have any questions about the mentorship program, you can send an email to one of the administrators at cderi055@gmail.com or mmafo045@uottawa.ca . Thank you!
Mentors' Biographies
Virginie Abat-Roy
Virginie Abat-Roy was born in Quebec City. She speaks French and English, and has a master's degree in education. She is a specialized teacher for suspended or expelled students in Ottawa and works with an accredited service dog named Toulouse. Virginie has been working on her PhD for the past three years. She is studying the experience of service dog users in Canada and the accessibility issues they face on a daily basis. Her research interests are the inclusion and exclusion processes, accessibility advocacy and innovative research methods. She is looking forward to sharing tips and offering advice to new students at the faculty.
To contact Virginie: vabat032@uottawa.ca
Virginie has reached full capacity.
Amanda Battistuzzi
Amanda is a French specialist as a Second Language teacher taking some time away from the classroom to complete her Master of Education. In her previous job as a university recruiter, she helped many students on their journey to post-secondary education. Originally from southern Ontario, she's enjoyed getting to know Ottawa. Her research interests include the development and training of Core French teachers in Ontario. As a mentor, she hopes to share her experience to help others start graduate school on the right foot! To contact Amanda: abatt062@uottawa.ca
Mark Currie
Mark Currie was born and raised in small-town southern Ontario. He is a PhD Candidate who focuses his research around public pedagogies, sociohistorical space, and enacting antiracism. His doctoral examines how the Ontario Black History Society's walking tour in downtown Toronto acts as an educational tool for engaging and (re)shaping sociohistorical spaces as antiracist geographies. He is also a member of the Education Graduate Student Association (EGSA) Finance Committee, the Education Steward with CUPE 2626, the Graduate Student Representative with the Canadian History of Education Association (CHEA), and a blog writer for the Journal of the Canadian Association of Curriculum Studies (JCACS). Prior to moving to Ottawa to pursue his PhD, Mark lived in Prince Edward Island where he obtained his Master of Arts in Island Studies, investigating postcolonial education and cultural identity on the Caribbean island of Dominica. To contact Mark: mcurr014@uottawa.ca
Catherine Déri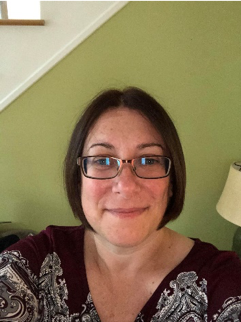 Catherine Deri was born in Montreal, Quebec and speaks French and English fluently. She recently retired from the Canadian Army after 25 years of active service as a military officer. She completed a M.Ed with the Faculty of Education and has now been working on her PhD for the past three years. Her thesis topic pertains to social learning in academic writing groups composed of graduate students. She is interested in sharing tips and tricks, by supporting new graduate students, to facilitate their experience at the Faculty of Education. To contact Catherine: cderi055@uottawa.ca
Rachel Grant
Rachel Grant is a fifth year PhD Candidate and Part-Time Assistant Professor with the Faculty of Education. After completing her BScN in her home province of British Columbia, she moved to Toronto to undertake a Master of Nursing. She worked as a Research Associate at the University of Toronto and University of Ottawa in the Faculty of Medicine prior to commencing her PhD. Rachel is interested in supporting graduate students – especially those new to education as a discipline – navigate their experience at the Faculty of Education. To contact Rachel: rgran058@uottawa.ca
Rachel has reached full capacity.
Janelle Fournier
Hello all! My name is Janelle Fournier (she/her) and I'm a third-year doctoral student. I am a former high school science and math teacher. I'm quite passionate about inspiring gender-diverse students to pursue STEM-related fields. My focus is on finding ways to help teachers engage their students in STEM (but more specifically, engineering) activities. On a personal note, I have a love of the ocean, especially sharks, and enjoy educating people on shark finning and ocean conservation. I'm also an avid swimmer. I look forward to chatting, getting to know you and providing some support during your grad studies adventure!
To contact Janelle: jfour055@uottawa.ca
Janelle has reached full capacity.
Marthe Foka
Marthe Foka was born in the city of seven hills, at the heart of the Cameroun capital. Shortly after arriving to Canada, she started her academic journey at University of Ottawa, proving to be an enriching learning experience full of discoveries. After three years of PhD studies, she had numerous opportunities to devote support to new students. Over the past years, she has been a mentor for over a hundred undergrad and grad students with the METHIC-EDU Association. Based on this experience, she acquired a cultural and adaptative intelligence, and developed an understanding of the challenges faced by new graduate students as well as an in-depth knowledge of services provided by our faculty and the university. In her research project, she explores the role of social capital and social networks in accessing employment, specifically as it relates to the role of school leadership. In her academic work, she furthered her reflection on what mentors and friends contribute to success from a professional perspective, an outlook that she was able to benefit from when investing in academic mentorship programs. Her vast knowledge and experience will certainly allow her to facilitate your first steps at the Faculty of Education. Marthe is looking forward to meeting you!
To contact Marthe: mmafo045@uottawa.ca
Marthe has reached full capacity.
Chuan Liu
Chuan Liu was born in Beijing, China and speaks English and Mandarin fluently. He recently moved to Ottawa after 10 years of teaching and working in the field of second language education. He completed his bachelor in China and has now been working on his Master since last September. His thesis topic pertains to technology integrated in second language education. He is interested in sharing tips with new graduate students and offering helps to facilitate their experience at the Faculty of Education.
To contact Chuan: cliu199@uottawa.ca
Olivier Alfieri
Olivier Alfieri is currently a doctoral student at the Faculty of Education where he is studying in the field of distance learning. He completed a Master 2 MFEG in the specialty of "engineer in e-learning" at Université de Rennes 1 and a Master in French and Roman literature at Université catholique de Louvain-la-Neuve. His academic work specifically relates to change processes of professional practices in the context of higher studies. As a Teaching Assistant at our faculty, he supports professors in their professional e-teaching practices. Based on his experience of over 10 years in education and training, he led and coordinated the implementation of a diversity of educative programs and resources. His hybrid professional profile combined two main strengths: pedagogical engineering of e-modalities for hybrid and online teaching, as well as the development of "agile" pedagogical resources and digital courses.
To contact Olivier: oalfi088@uottawa.ca
Fatemeh Anvari
Fatemeh Anvari is a graduate student who completed her undergraduate studies in English Literature and has worked as an English teacher in Iran for a couple of years in the past. She is interested in disability studies and special education, and is now working on her Master of Arts in Education, studying the stories of individuals who are involved in the education of a child with Down syndrome. She is on the Education Journal team as an editor, and is also the MA program representative on the Education Graduate Students Association (EGSA). She is committed to helping new students with a better graduate school experience at the Faculty of Education.
To contact Fatemeh: fanva009@uottawa.ca
Fatemeh has reached full capacity.
Laurence Kangne Djuidje
Laurence was born in Cameroun but identifies to multiple cultures. Thereupon, her passion is to travel the world and learn about others. Specializing in the management of household waste in France, in the past, she has been advisor for youth activities, as a volunteer cooperant. She decided to transition professionally after taking part in the French language official program of the Council of Ministers of Education, Canada (CMEC) to follow her dream: invest in future generations through education (pure nonsense, she heard from others!). Since changing careers often means renewed training, she successfully completed a Masters in Education (M.Ed, with memoire). As a doctoral student, she is furthering her academic journey in the same field of interest at University of Ottawa. If someone had told her that she would be where she is now, after managing a fleet of household waste trucks in Lyon, "I would have laughed out loud". It has not been without anxiety and tears…but Laurence managed to overcome one challenge at a time, one semester at a time, by being well supported. In turn, she makes herself available to exchange with you, share tips or simply listen to you.
To contact Laurence: lkang037@uottawa.ca
Athourina David
Athourina grew up in Ottawa and completed her undergrad in Biomedical Sciences at University of Ottawa. She is currently enrolled in the graduate program of Counseling Psychology (M.A.). Her research interests include minority cultures and psychotherapeutic processes. She knows the City of Ottawa inside out, as well as the university, and is eager to support new students arriving at the Faculty of Education.
To contact Athourina: adawo058@uottawa.ca

Athourina has reached full capacity.
Shelina Adatia
Shelina Adatia (she/her) is a first-generation PhD candidate in Societies, Cultures and Languages. Born and raised in Ottawa, she is fluent in English, French, and Gujarati. Shelina is a former French as a Second Language (FSL) teacher who is now researching the inclusion of Culturally and Linguistically Diverse (CLD) learners in French Immersion. Throughout her time at the Faculty of Education, Shelina has benefitted immensely from dedicated mentors, and would love the opportunity to pay it forward to her fellow graduate students. In her spare time, Shelina enjoys Face Timing her nephews, baking banana chocolate chip muffins, scrolling through Twitter, and listening to Bollywood beats.
To contact Shelina: sadat028@uottawa.ca
Natalie Sadowski
Natalie Sadowski (she/they) is a second year PhD Candidate and a proud queer woman. She speak English and Polish. She started her academic career in chemistry before moving to informal education. Her doctoral research focuses on science centres and museums, and she is happy to talk your ear off about either. When she's not watching reruns of Arthur, or relearning to crochet for the umpteenth time, she can be found teaching her cats to play fetch. Natalie is committed to improving student wellbeing and mental health. She also finds it super awkward to write about herself in the third person and encourages you to send her an email to you want to chat. Be warned, if you have any LGBTQ+ questions, you might not get a straight answer 😉
To contact Natalie: nsado072@uottawa.ca
John Ward
John Ward is from the Algonquin territory of Kitchi-Sibi, pursuing a PhD in Education. His specialization is Indigenous wholistic knowledge, ethics, disabilities, learning disabilities, and dyslexia among Indigenous people in Canada and the USA. John has worked in the area of disability, primarily learning disabilities and dyslexia for the majority of his life, while engaging with First Nations communities to provide alternative education based on cultural understanding. He enjoys wood, bone, and antler carving, as well as birch bark making. Knowledge sharing and connecting with students who are passionate about learning is what John excels at the Faculty of Education.
To contact John: jward075@uottawa.ca