Les élections du SCFP 2626 se déroulent cette semaine.  /  The CUPE 2626 elections are taking place this week.
S.V.P. Votez! Please vote!
Les stations de scrutin / Polling stations:
1 mars / March 1: RGN
1 mars  & 2 mars / March 1 &  March 2: UCU 303
Pages de campagne / Campaign pages:
http://www.cupe2626.ca/elections/index.html
Un message d'Olivier Desharnais-Roy, candidat à la présidence du SCFP 2626, le syndicat des aides à l'enseignement et à la recherche | A message from Olivier Desharnais-Roy, candidate for the Presidency of CUPE 2626, the union representing TAs, RAs and other academic workers:
Chères membres, chers membres,
Le temps est venu de choisir votre prochain président et votre prochain exécutif.
Au cours des dernières semaines, j'ai apprécié le soutien que vous avez manifesté pour mes idées.  Vous avez pu apprécier mes connaissances, mon expérience du monde syndical ainsi que mon expérience de la réalité des travailleuses et travailleurs de l'Université. Entre le 27 février et le 2 mars, votez pour l'expérience, le leadership, le dévouement!
Votez Olivier!
+ + + + +
Dear members,
Time has come to choose your next president and your executives.
Over the last few weeks, I have appreciated the support you have shown for my ideas. You've also been able to appreciate my knowledge and my experience of the union movement and of the work environment of the University. Between February 27 and March 2nd, vote for experience, leadership and dedication!
Vote Olivier!
 Affiches / Posters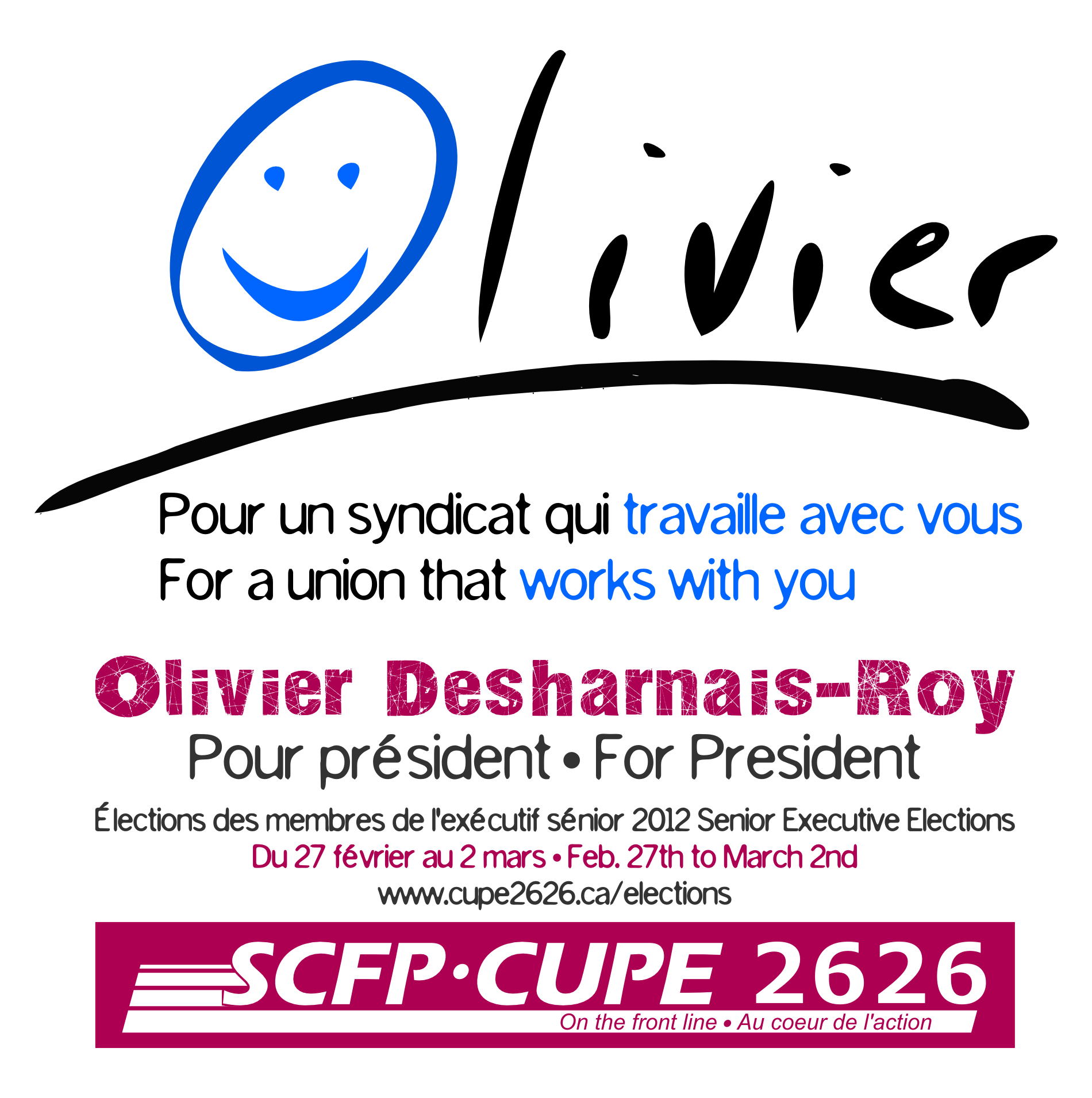 CUPE 2626's AGA / AGA du SCFP 2626 :
https://www.facebook.com/events/332266643477135/